In Supplier management you can configure defaults & settings for your suppliers that speed up invoice processing & help your AP department run like clockwork. This includes defaults like tax, currency & account codes, workflows, & functions like receipting.
There are two main categories in Supplier management:
Supplier defaults
Advanced functions
In this guide, we explore the important defaults & settings in each category & how to configure them.
Supplier defaults
Supplier defaults are codes that iCompleat automatically applies to invoices when they arrive in iCompleat, saving AP operators valuable time when they're processing them.
AP operators can also set supplier defaults for suppliers when they're processing an invoice. Any defaults they apply will appear here in the Supplier defaults area.
You can set supplier defaults for any of the codes that you apply to invoices, including:
Tax
Account
Department
Currency
Workflow
To set the supplier defaults for a supplier, go to Supplier Management, & click Supplier Defaults on the left.

Select a supplier from the drop-down, & then choose the default codes from the drop-downs. You may leave a drop-down blank if you don't wish to set a default for that code.
Make sure you click Save when you've finished choosing defaults.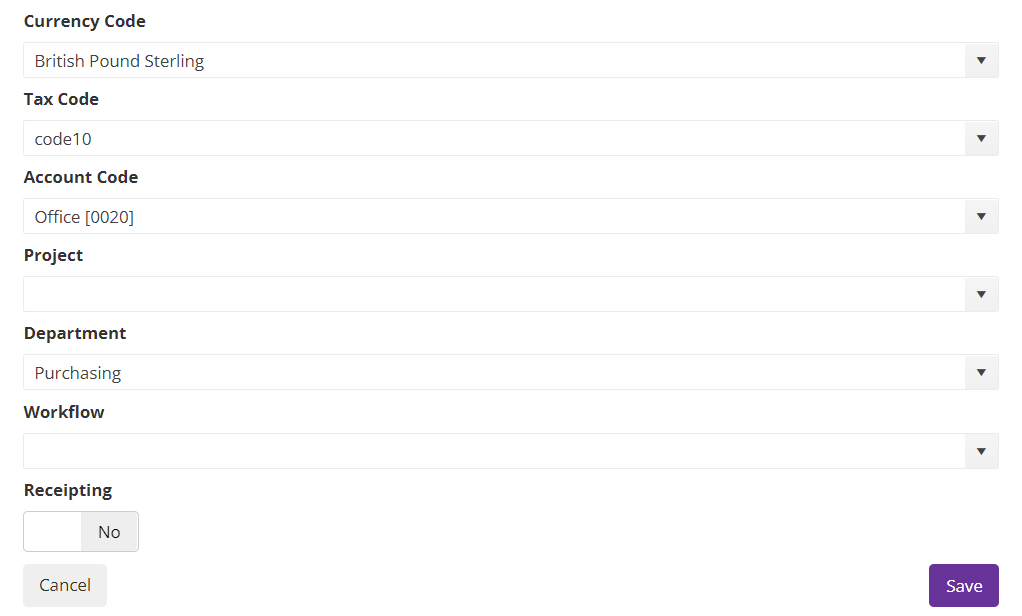 To remove a supplier default, hover over the drop-down & click the grey X that appears.

Activate receipting
If you'd like to use receipting for a supplier, switch on the Receipting toggle, & click Save.
You'll then need to switch on the receipting permission for each user who needs access to receipting approved orders.

Advanced functions
In the Advanced functions area of Supplier management, there are some extra settings for determining how iCompleat behaves during invoice processing for individual suppliers.
Here's what they're for:
Un-map the supplier
You'll only see this button if a supplier has been mapped to an invoice during processing by an AP operator, & then submitted to a workflow.

Mapping a supplier to an invoice means linking the supplier name found on the invoice with the supplier name in your accounting software so that all future invoices from the supplier will be automatically assigned the correct supplier & any defaults applied to it.
Un-mapping the supplier will mean that the next time an invoice from that supplier arrives, an AP operator will need to manually select the supplier & map it to the invoice.
Mapping a supplier to an invoice is different to mapping supplier defaults.
Require matched PO to auto submit invoices for this supplier
Switch on this toggle so that iCompleat will still auto-submit invoices from the supplier, even if they haven't been matched to an order. This is a useful feature if you sometimes place orders outside iCompleat, meaning there's not always an approved order available to match to an invoice.