Hey there!
Check out the awesome updates we rolled out this week, just for you! 😎
What's new
NEW!
Change the PO number on an invoice & get matching back on track!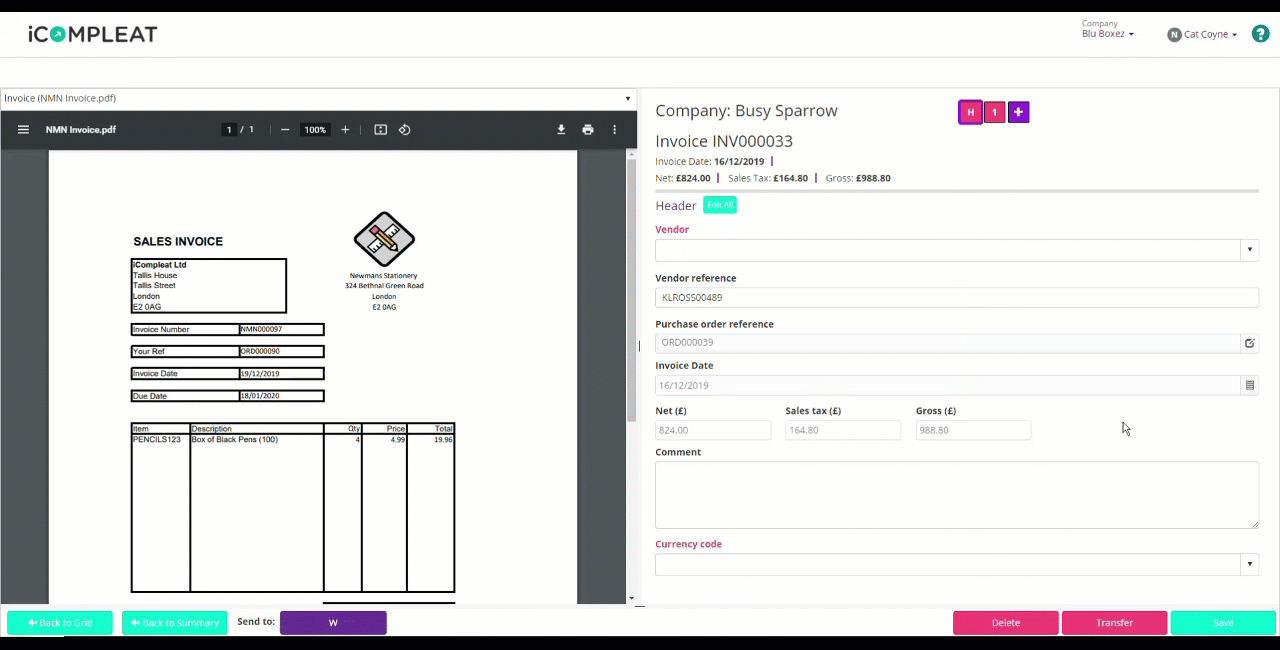 Can you feel a tingling sensation in your fingertips?
Oh, that's just your new superpower to edit the PO number on invoices coursing through your veins! And that swishing sound you hear is the capes of a thousand other AP Operators triumphantly circling the skies in celebration...
Back on earth, an incorrect PO number on an invoice can turn a good day for an AP Operator into a troublesome one. Suppliers adding the wrong PO number to an invoice, or simply making a typo, can interfere with matching and create extra work.

Now, you can swoop to the rescue. Simply click the new editing button beside the PO number on the invoice editing page, enter the correct one, hit Save, and you're back on track.
iCompleat will automatically perform matching again and locate the correct PO, and you can get on with the more important stuff in life.
*Cape not included in feature update
NEW!
Crack down on credit notes pretending to be invoices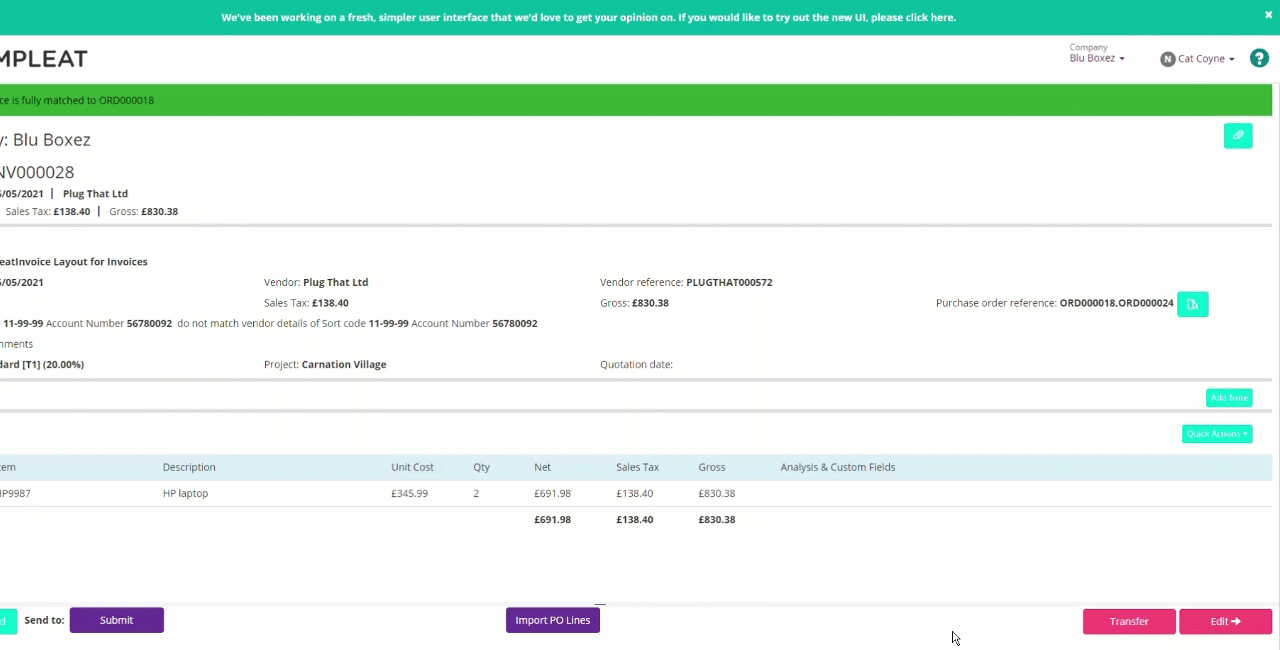 Invoices or credit notes having an identity crisis are a thing of the past! We've just added the life-saving option to turn a credit note pretending to be an invoice into a credit note, and vice versa.
This glitch occurs when our Capture software processes an invoice as a credit note, or the other way round. This can be for a number of reasons, including suppliers creating credit notes that look strikingly similar to invoices. Occasionally a document does slip through our net into iCompleat wearing the wrong shoes, and we wanted to give you the power to fix it quickly.
The solution...
Now, simply open the offending document from the Unprocessed tray, and hit Transfer. Choose the correct transaction type from the middle drop-down, hit Transfer again, and hey presto! Your transaction is living its best life in its rightful footwear. (Is it just us, or is a credit note a casual loafers kind of guy?)

If you only have one credit note/invoice layout, iCompleat will automatically apply that layout. If you have multiple layouts available, you'll be able to select which one to apply to the transaction before you make the transfer.
Enjoy!
NEW!
Transfer an invoice or credit note from the edit page
After we launched the new Transfer feature on the invoice summary page, we had a few requests to add the button to the invoice edit page, too.
You asked, we delivered!
NEW!
Supplier code column on invoice downloads
We heard that you wanted to see the supplier code on your invoice downloads, so we added a column right before the supplier name that will appear in your .csv exports.
We hope this gives you clarity and peace of mind when you're importing invoice data into your accounting software!
NEW!
Choose to post invoices to Sage Intacct as Drafts or Submitted
We understand that you might want to carry out further action on invoices once they arrive in Sage, so we've added the option to submit invoices to Sage either as Drafts or Submitted invoices.
iCompleat Administrators can choose whether their company will post invoices to Sage
as Drafts or Submitted invoices in Company settings > Connection. Just look for the Posting toggle.
NEW!
Sage Intacct Dimensions now display in iCompleat under their correct names
When iCompleat cached your Dimensions from Sage Intacct, it was automatically changing their names to correspond with iCompleat's default fields. We've changed this so that your correctly named Dimensions will always display in iCompleat.
Fixes
FIXED!
Invoice download button not working
The button to download a batch of invoices in the Invoice download area was unresponsive.
FIXED!
Sage Intacct Project & Department codes displaying the code description, but not the name
iCompleat was caching the Project & Department codes from Sage Intacct but was displaying only the code description, not the code name, on transactions and under drop-downs.