Welcome to today's release notes!
We're really excited about today's updates, and we think order creators will be too... Don't wait any longer - check what's new, improved, and fixed on 1st November 2019!
What's new
NEW!
New 'Issue to supplier' button to submit an order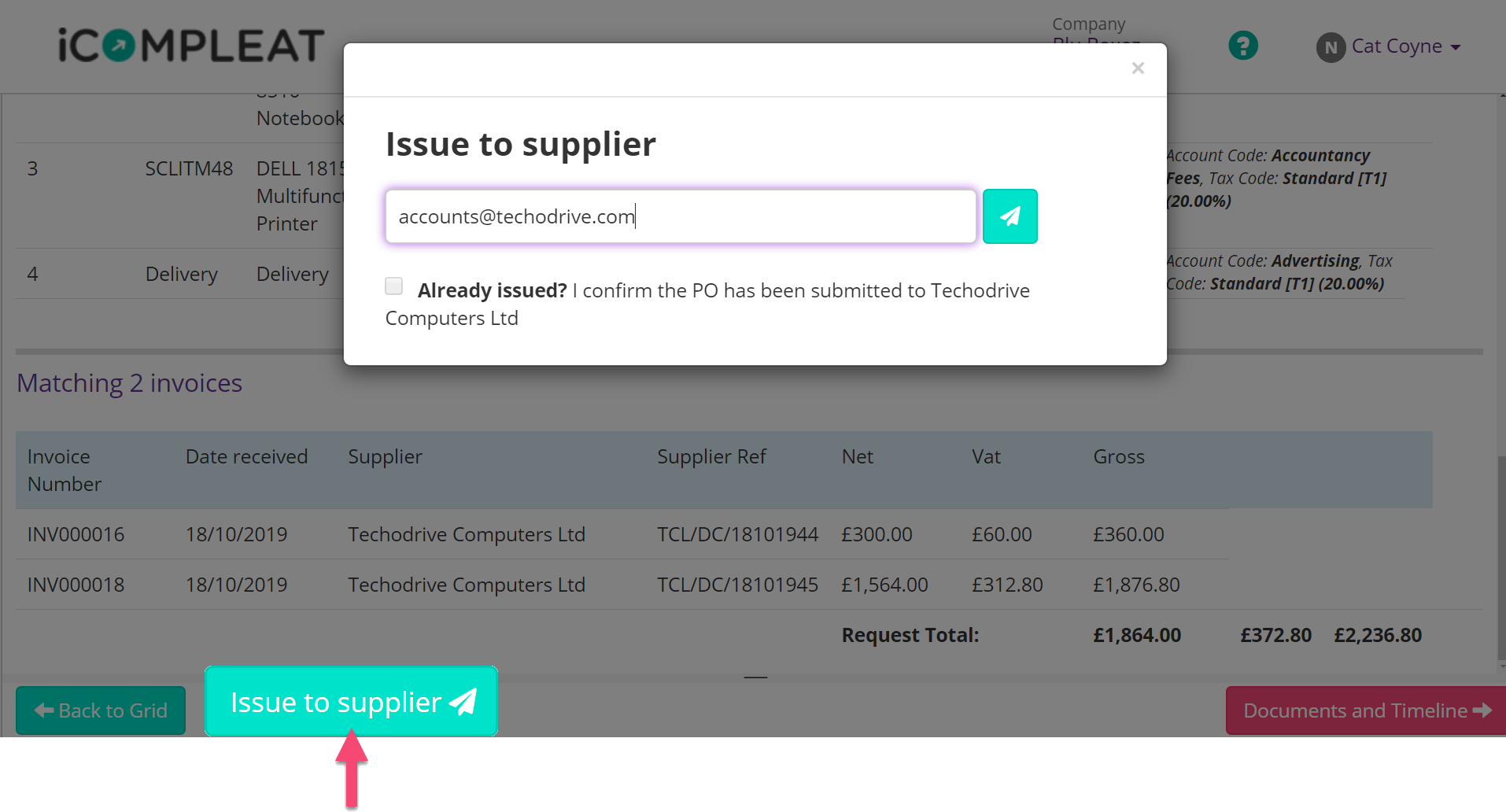 Until now, if the permission to automatically email fully approved purchase orders to suppliers was switched off in iCompleat, you had to download a PDF copy of your order, attach it to an email and send it to your supplier manually. Thanks to the brand new 'Issue to supplier' button, however, you can now achieve that entire process in a single click.
Located in the bottom-left of the order summary page, the 'Issue to Supplier' button is now available for all orders that have not been automatically issued to a supplier by the system once fully approved. Just click the button, enter the correct supplier email, and hit the send button to instantly transmit the order.
If you've already downloaded a PDF of the order and emailed it to the supplier, or the order has reached the supplier another way outside of iCompleat, you can check the 'Already issued?' box and the system will log the order as sent.
NEW!
See the submission status of your approved orders
You can now get instant clarification on the submission status of orders thanks to a handy new icon in the Approved tray. Located in the right-hand column beside an order, this little black tick tells you exactly what you need to know about your order's journey after approval, including the supplier email address it was sent to, the date and time it was sent, and if it was sent automatically by the system. To view this vital summary, simply hover over the icon in the tray.
When an order hasn't reached a supplier – either because no email address was entered in the order, or the automatic supplier emails permission wasn't switched on – a pink warning icon will appear in place of the black tick to remind you that the order still needs to be sent. Clicking this warning icon will take you to the order summary page, where you can now manually issue fully approved orders to your suppliers approval using the new 'Issue to Supplier' button.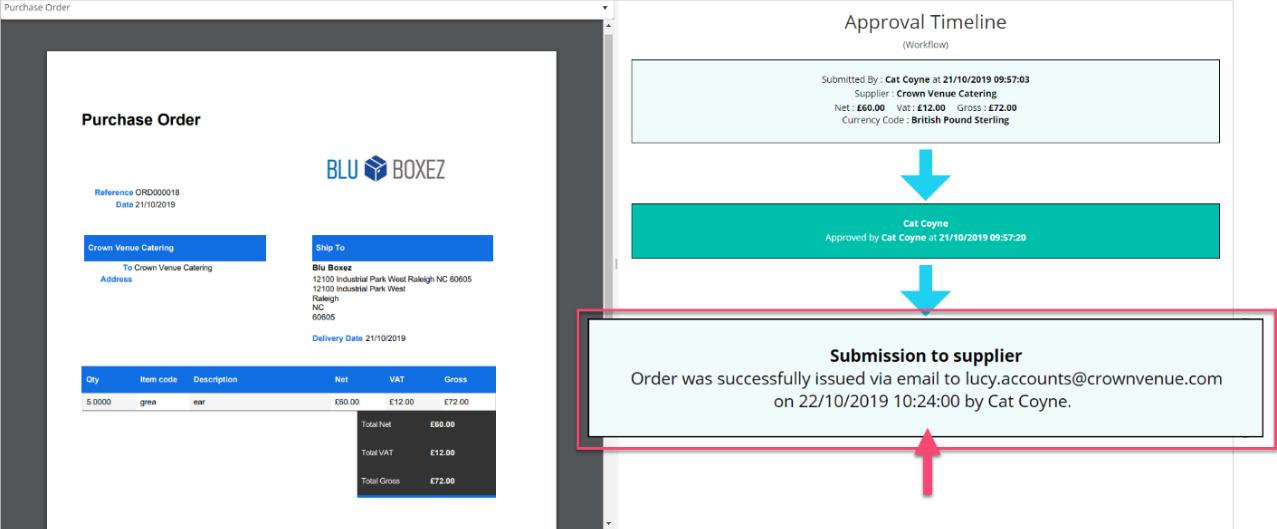 The order Approval Timeline has also been enhanced to include a useful submission status summary. Just click an order and select 'Documents and Timeline' to see a detailed record of its journey, from creation to full approval, and finally, submission to the supplier.
NEW!
Edit a supplier's email address on the order screen

When you create a purchase order, it's good to know that it'll reach the correct supplier inbox once it's been submitted, approved, and sent on its way. That's why we've added a brand new 'Supplier's ordering email address' field to the order editing page, giving you that additional reassurance that your orders will go to the right place once they've had the final thumbs up.
The 'Supplier's ordering email address' field remains blank until you select a supplier, then pulls the email address from your connected finance system or reference data so that you can see exactly where the order is going to end up. If you ever need to send an order to a different email address – for instance, if your supplier has multiple inboxes, or occasionally requests that you send them to a different email address – you can simply click and edit the field. This won't change the email address that you have saved for a supplier in the system, giving you full flexibility on a case-by-case basis.
NEW!
Order supplier emails are now on by default
The permission in Manage Events to automatically email fully approved orders to suppliers is now switched on by default, saving you having to configure the permission every time you add a new supplier.
Click here to see how to configure the permission.
NEW!
View the order PDF when searching for a matching order
When clicking Find a PO on an unmatched invoice, you can now view order PDFs and any accompanying documents from the order list, helping you find the right order to match.
NEW!
Universal Connector: Add supplier emails and addresses to your reference data
Users connected to iCompleat's Universal Connector can now add supplier email addresses and addresses to their reference data, letting iCompleat automatically email orders to suppliers! The supplier address appears on all purchase order PDFs.
Fixes
FIXED!
Invoices automatically downloading with no preview
Some invoices were not available for preview in the invoice Documents & Timeline and invoice editing pages, and were instead downloading automatically.
Invoices sent to iCompleat before this issue was fixed may still encounter this problem. Please contact support if you continue to experience the issue.
FIXED!
'Quick Actions' button on the order editing page removing coding
Clicking the Quick Actions button on the order editing page to fill in multiple codes at once was removing existing coding from the order.