Hello!
Here's what's new, improved, and fixed in iCompleat on 21st February 2020.
What's new
NEW!
Process invoices with negative line values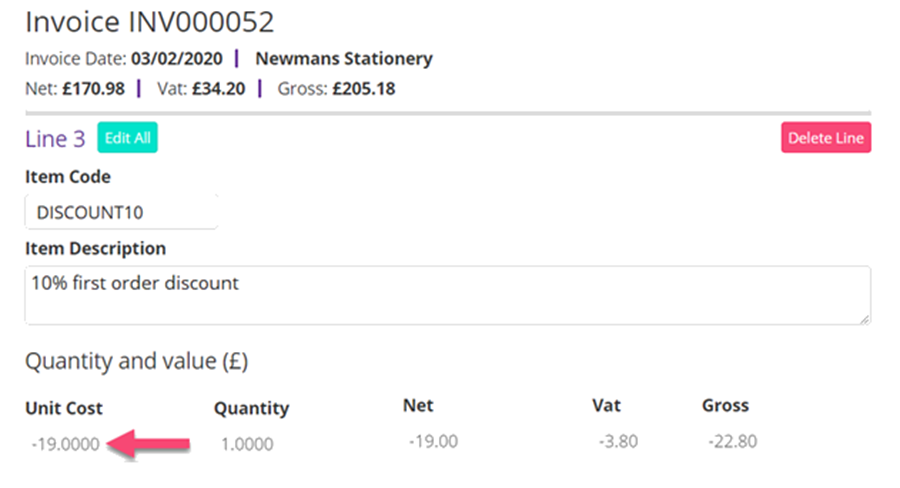 It's always nice to save a few pennies, and iCompleat's new ability to handle negative line values on invoices puts the cherry on top of discounts.
Now, any invoice your company receives that contains a discount at line level can pass through iCompleat just like any other invoice, saving you the hassle of having to manually edit the lines yourself.
That's not to say you can't edit a negative value line if you need to. Negative lines on invoices are editable just like normal lines, meaning you can code the discount to your desired account, project, department, or, for that matter, any other fields configured at line level on your invoice layout. If you need to, you can even split a negative line to distribute the discount across different codes.
NEW!
Universal Connector: Upload supplier bank details in any format
Customers using iCompleat's Universal Connector can now upload supplier bank details to the Reference data area in iCompleat in any format, letting them benefit from iCompleat's bank detail validation feature.
NEW!
All-new login page!
You might have noticed that your iCompleat login page has had a makeover. We hope you like the new look and feel! Don't worry - this doesn't change the way you access iCompleat.
Fixes
FIXED!
Error page when saving and submitting orders for approval
If you saved an order and then quickly submitted it to a quickly, you'd get an error page. We've fixed it!
FIXED!
Invoices not getting marked as posting failures during a connection drop
If the connection to your finance system dropped, fully approved invoices would sometimes stay in the Approved tray without an associated journal number, but not get marked as posting failures.