Releases this month
Hello!
Check out what's new, improved, and fixed in iCompleat on 18th December 2020.
What's new
NEW!
Administrators: Control your users' access to workflows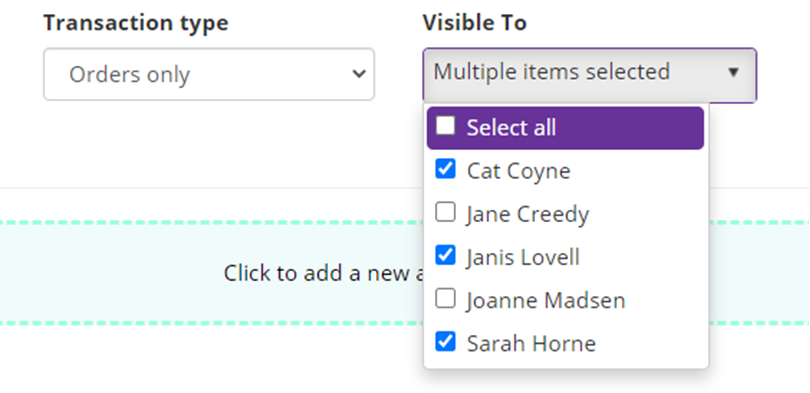 Administrators now have greater control over which workflows order creators have access to.
The new Visible to drop-down is available when you're creating or editing an order workflow, letting you pick exactly which users will be use the workflow when submitting an order for approval.
This is one of several handy updates we've rolled out recently that let you fine-tune your users' experience in iCompleat, including the recent settings group feature for restricting user access to certain suppliers.
For more guidance on workflows, go to Customising workflows.
NEW!
Re-issue an order to a supplier in a single click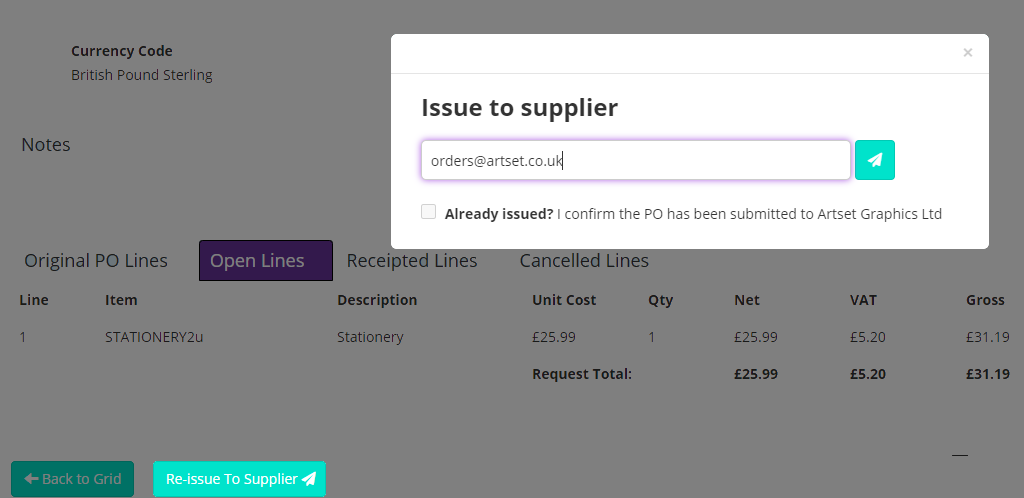 Need to send an order again? Perhaps you sent an order to your supplier's old, out-of-use email address, or maybe your supplier misplaced your order. Whatever the reason for resending an order, it's now easily done using the new Re-issue to supplier button.
Simply open an approved order that's already been issued to the supplier, and you'll now see the button in the bottom-left corner of the order summary page. Click it, check your supplier's email address is correct or enter a new one, and then hit the button to send it. The order will fly straight to the right inbox, and the Documents and Timeline page will update to show a record of you resending it.
We hope this makes ordering with iCompleat even more of a breeze!
NEW!
'Created by' column in the Awaiting Approval tray

It's useful to know exactly where your orders came from. Here's a simple, no-nonsense feature to make approvers' lives that little bit easier: a column in the Awaiting Approval tray showing who created the order. All approvers will now see this column when they're reviewing the tray, giving them that useful extra context as they scan the orders awaiting their all-important thumbs up.
Like most other columns in the trays, you can use the filter tool in the Created By column to view orders created by a specific user.
Enjoy your enhanced Awaiting Approval tray!
NEW!
Order coding is automatically duplicated on matching invoices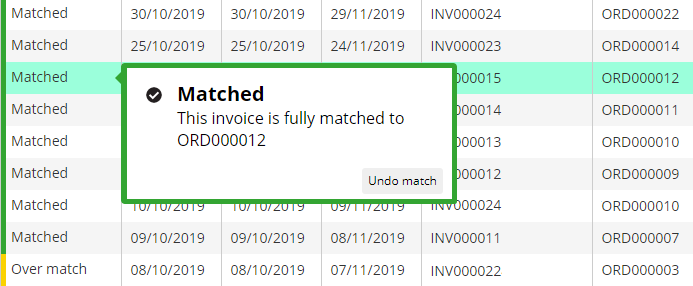 When you're using invoice matching in iCompleat, an invoice that matches an approved order will now automatically adopt the coding of its matching order, regardless of whether you had to perform matching manually to get a full match, or if the invoice had another status such as Over match or No PO number before being fully matched.
Until now, invoice coding would only duplicate from the matching order if the invoice fully matched the order the moment it arrived in iCompleat. Now, as soon as iCompleat sees that much-loved Matched status, it knows what to do.
For more information on matching, check out Matching statuses explained.
NEW!
See invoice journal numbers in the Invoices Approved/Denied report
This extra information makes it easier for you to compare details of approved and denied invoices with your accounting entries.
NEW!
See supplier bank details on invoice downloads
If you're using iCompleat's Universal Connector and download invoice batches, you'll now see a new column on your downloads showing supplier bank details.
Fixes
FIXED!
Certain receipted orders weren't appearing in the Receipted tray
Sometimes, if a user receipted an order, but they weren't the user who created the original order, the order wouldn't appear in their Receipted tray.