This guide shows you the quick and easy steps you need to take to set up iCompleatBuy. When you've finished following these steps, your iCompleat company will be ready to start placing orders using iCompleatBuy and receiving invoices for processing.
Everything you need to know about configuring iCompleatBuy is in this article, including time-saving tricks like disabling workflows for your iCompleatBuy suppliers so that orders are sent the second you hit 'Purchase'.
iCompleatBuy currently supports Amazon Business and Lyreco. We're working on integrating with more of your favourite suppliers, so watch this space!
What is iCompleatBuy?
iCompleatBuy is our version of Punchout. It lets you shop with popular suppliers from the iCompleat ordering area, submit your shopping basket for approval, and receive invoices to iCompleat for processing and matching.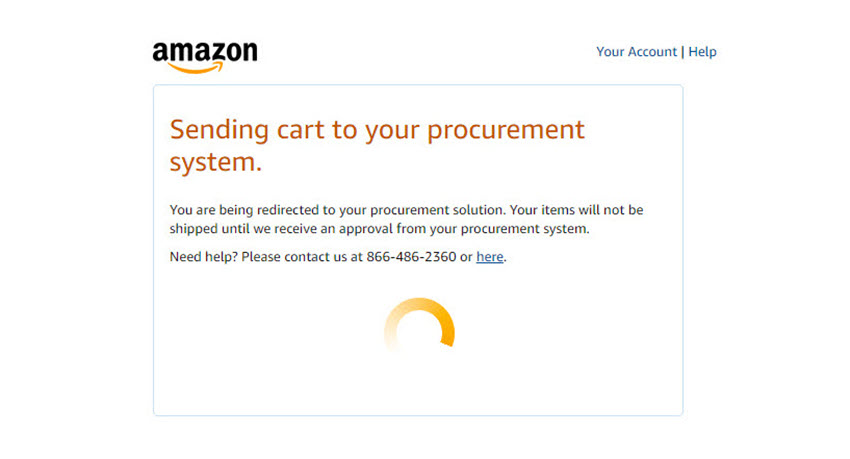 Once you've set up iCompleatBuy, you'll see the logo for each of your suppliers supported by iCompleatBuy on the homepage, and a new Buy Online button on the order editing page when you create an order with one of those suppliers. Both features take you straight to the supplier's online shop, where you can browse items, add them to your basket, and access your favourites - basically everything you normally do when shopping with your top suppliers.

When you've finished filling your basket, the normal checkout button takes you to the iCompleat order editing page, with the contents of your shopping basket converted into line items that you can code before submitting the order for approval. Once an iCompleatBuy order is fully approved, iCompleat will automatically send it to the supplier.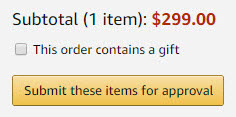 1. Activate iCompleatBuy
If iCompleatBuy isn't already active for your iCompleat account, you need to add it to your iCompleat subscription plan. If you have more than one company in your iCompleat account, this will activate iCompleatBuy for all of those companies.
To access your subscription plan and activate iCompleatBuy, follow these steps.
iCompleatBuy is on by default during your free trial period.
Go to your user menu, and select Subscription Options.
Next to Your Plan, select Edit.
In the iCompleatBuy drop-down, select On.

The cost of your subscription plan updates in the Summary on the right.

iCompleatBuy is cheaper if you pay your subscription annually rather than monthly.

Select Continue.
(Optional) Your default billing address and card details are displayed.

Edit any fields if you'd like to use a different payment method and/or billing address on this occasion.

In the Send Invoice To drop-down, ensure the iCompleat company you'd like the invoice sent to is selected.
When you're happy with your payment details, select Pay securely.
Your subscription updates instantly, and iCompleatBuy is now activated for all companies in your iCompleat account.
You now need to quickly sync your finance system connection so that iCompleat can check for Punchout suppliers in your finance system.

Return to the homepage, and select Configuration.

Select Company management.
Go to Connection.
Select Sync Now.
If your Punchout suppliers are saved in your finance system under a verified name, you'll see their logos on the iCompleat homepage, and you can now continue to 3. Enter your suppliers' iCompleatBuy credentials.

If you don't see any of your Punchout suppliers' logos on the homepage, continue to the second step below to manually select them.
2. Manually sync supplier names
If you don't see the Amazon Business logo on the homepage, you need to manually sync your supplier names so that the system knows they're a verified iCompleatBuy supplier.
To manually sync supplier names, follow these steps.
On the homepage, select Configuration.
Select Company management.
Go to Ordering.
Next to Manually sync punchout supplier names, select Configure.
From the Supplier drop-down, select a supplier from your finance system.
From the Punchout Supplier drop-down, select the name of the Punchout supplier in iCompleat.
(Optional) If you're using iCompleatBuy with multiple suppliers, select the plus (+) icon to enable another supplier.
When you've enabled all of the relevant suppliers for iCompleatBuy, select Save.
Nice job! Your suppliers are now enabled for iCompleatBuy.

Continue to 3. Enter your suppliers' iCompleatBuy credentials.
3. Enter your suppliers' iCompleatBuy credentials
Now that your iCompleat account is ready to use iCompleatBuy, the next step is to enter some unique credentials so that iCompleat can integrate with your iCompleatBuy supplier's website and your account with them.
Select your iCompleatBuy supplier below to see how to access their credentials and enter them in iCompleat. When you've done it, we'll bring you back to this guide to finish configuring iCompleatBuy.
4. Switch off workflows for your iCompleatBuy suppliers
When you add an iCompleatBuy supplier in iCompleat, the Require workflow approval permission is switched on for that supplier by default. This means that iCompleat order creators will have to submit their iCompleatBuy orders with that supplier to a workflow for approval.
If you need to, you can switch off the Require workflow approval feature for an iCompleatBuy supplier so that orders you place using iCompleatBuy will be sent straight to the supplier as soon as you submit them, without needing approval by a workflow.
With the permission switched off for an iCompleatBuy supplier, order creators will see a 'Purchase' button instead of the usual workflow options, which skips approval and sends the order straight to the supplier.
Follow these steps to switch off workflows for an iCompleatBuy supplier.
On the homepage, select Configuration.
Select Company management.
Go to Ordering.
Next to Configure integrations with suppliers, select Configure.
Next to the relevant Punchout supplier, select Change.
Switch off the Require workflow approval toggle.
Select Save.
5. Create order layouts for your iCompleatBuy suppliers
Creating an order layout for each iCompleatBuy supplier lets you choose exactly which fields your order creators can view and code.
If you're using iCOmpleatBuy with multiple suppliers, you'll need to create a separate order layout for each of them. To create a layout for an iCompleatBuy supplier, follow these steps.
On the homepage, select Configuration.
Select Manage layouts.
Select Add Layout, and then select Order.
Enter a Name and a Code of up to five characters for your layout.
(Optional) Switch on the Active toggle so that the layout will be available as soon as you've created it.

You can switch this off and on at any time.

Select a Layout for invoices from the drop-down.

When an invoice arrives that matches an order using your new order layout, iCompleat will apply the selected invoice layout to it.

From the Link layout to specific supplier drop-down, select the iCompleatBuy supplier.

Select Save Layout.

A dialog box appears asking if you're sure you'd like to link the layout to a supplier. Select Yes.
Go to Field Configuration, and use the toggles and drop-downs to select which fields will appear on the layout, and whether they will be at line or header level.

The fields you see may vary depending on any additional custom fields you've got set up.

Select Save Layout.
Go to Settings Groups, and select New settings group.


Settings groups let you set default coding and restrict the codes available to different groups of users on a layout. For example, your Marketing users may want different account coding to be defaulted on all orders compared to your Customer Services users. A user needs to be assigned to a settings group to be able to use your order layout.

Enter a Name and a Code of up to 5 characters for the settings group.
Some of the fields on your layout can be edited further for this settings group, such as the Currency Code, and Account Code.

Select the fields you'd like to edit.

Then, choose a Default Value, and switch the Restrict values offered? toggle on or off.

Select Assign Users.
Select a user to add to the settings group from the drop-down, then select the black plus (+) icon.

Repeat this step to add more users.

Select OK.
Select Save Settings Group.
Select Save Layout.
That's it! You've successfully set up iCompleatBuy, and configured all of the settings in your account so that it will run like clockwork.