Time for a spot of invoicing 101.
This quick guide shows you how to make sure your invoices arrive in iCompleat quickly, with their header & line data accurately extracted & ready for processing.
You're just a couple of steps away from invoices appearing in your tray as if by magic... ✨
1. Give your e-invoicing email address to suppliers
If you didn't give your e-invoicing email address to your suppliers when you created your live company, now is the time to do it!
PDF invoices sent directly to your iCompleat company by your suppliers can arrive in your Unprocessed tray almost instantly, speeding through our nifty Capture software with the most accurate results.
However, scanned invoices sent from your own email address can take upwards of one working day to make their way to iCompleat. That's too long to wait for that all-important final approval.
The best way to let your suppliers know about your new e-invoicing email address is by using our email template for Outlook. Simply download the template using the link below, fill in your details, & forward it to the relevant suppliers.
Your e-invoicing email address is always displayed under the tiles on the homepage. We've put a handy button to the right of it so that you can copy it to your clipboard & give it to suppliers at a moment's notice.

2. Set up auto forward (optional)
Of course, if your suppliers are already sending invoices to an existing email address, eg. invoices@company.com, you might not want to change this. If so, you can set up a quick auto fowarding rule so that invoices are still directed to your e-invoicing email address without the need to manually forward them on, saving you time. Invoices sent to iCompleat this way can still arrive in your Unprocessed tray in a matter of seconds.
Some email providers won't redirect emails for security reasons. If you experience problems with redirecting, we recommend that you create an email distribution group containing your email address, & your iCompleat e-invoicing email address.
Sending invoices FAQs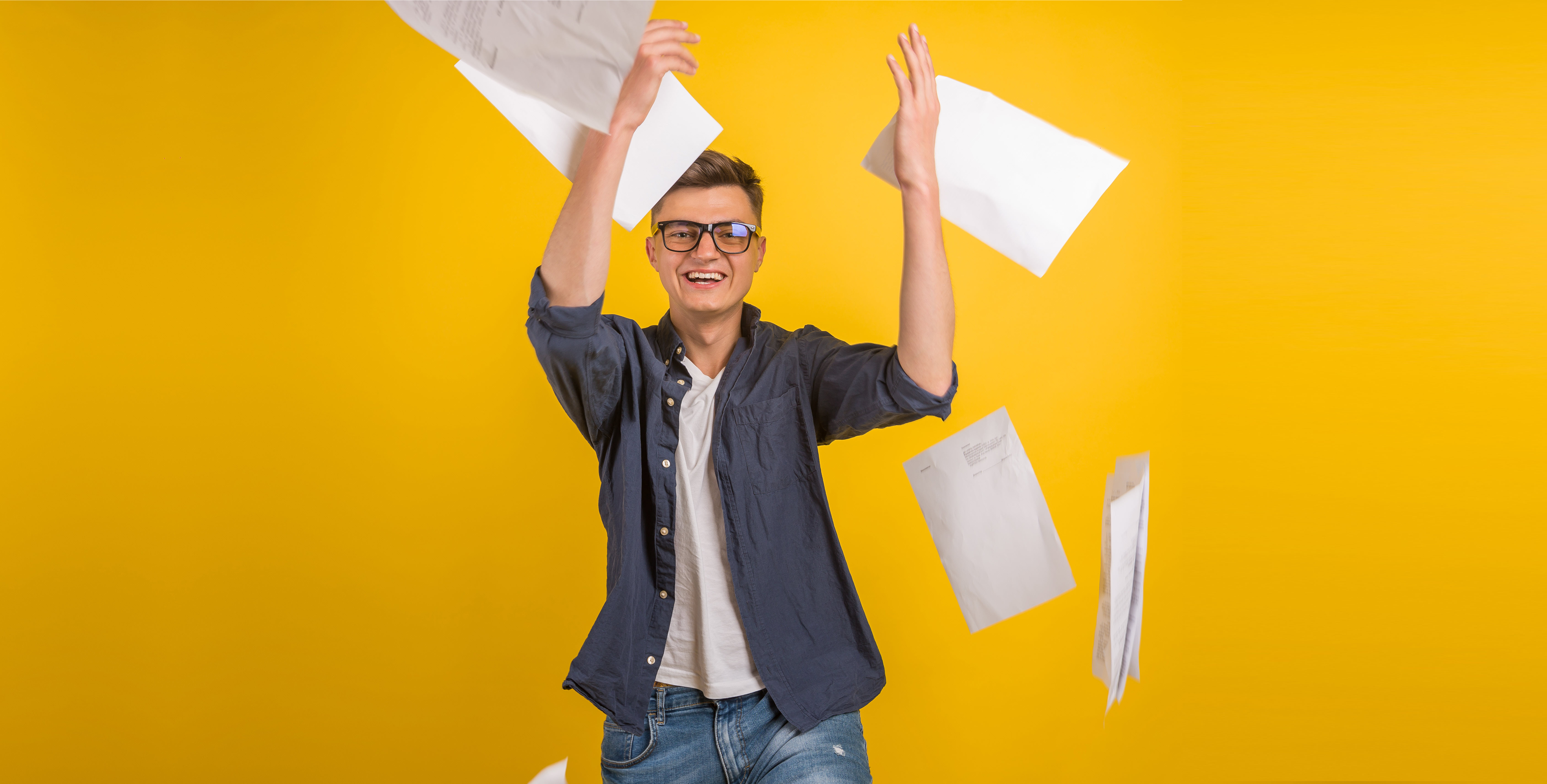 What's the best way to send invoices to iCompleat?
The swiftest, most accurate way to get your invoices processed is by asking your suppliers to send the
original "intelligent" PDF, or well formatted and clearly scanned invoice, directly to iCompleat.
Intelligent PDFs let you interact with the text "layer" within the document.
Identifying whether an invoice qualifies as an intelligent PDF is easy. Open your PDF invoice or other document in a PDF reader such as Adobe Acrobat, and use the text search or find function (usually Ctrl + F) to enter some text and find it within the document.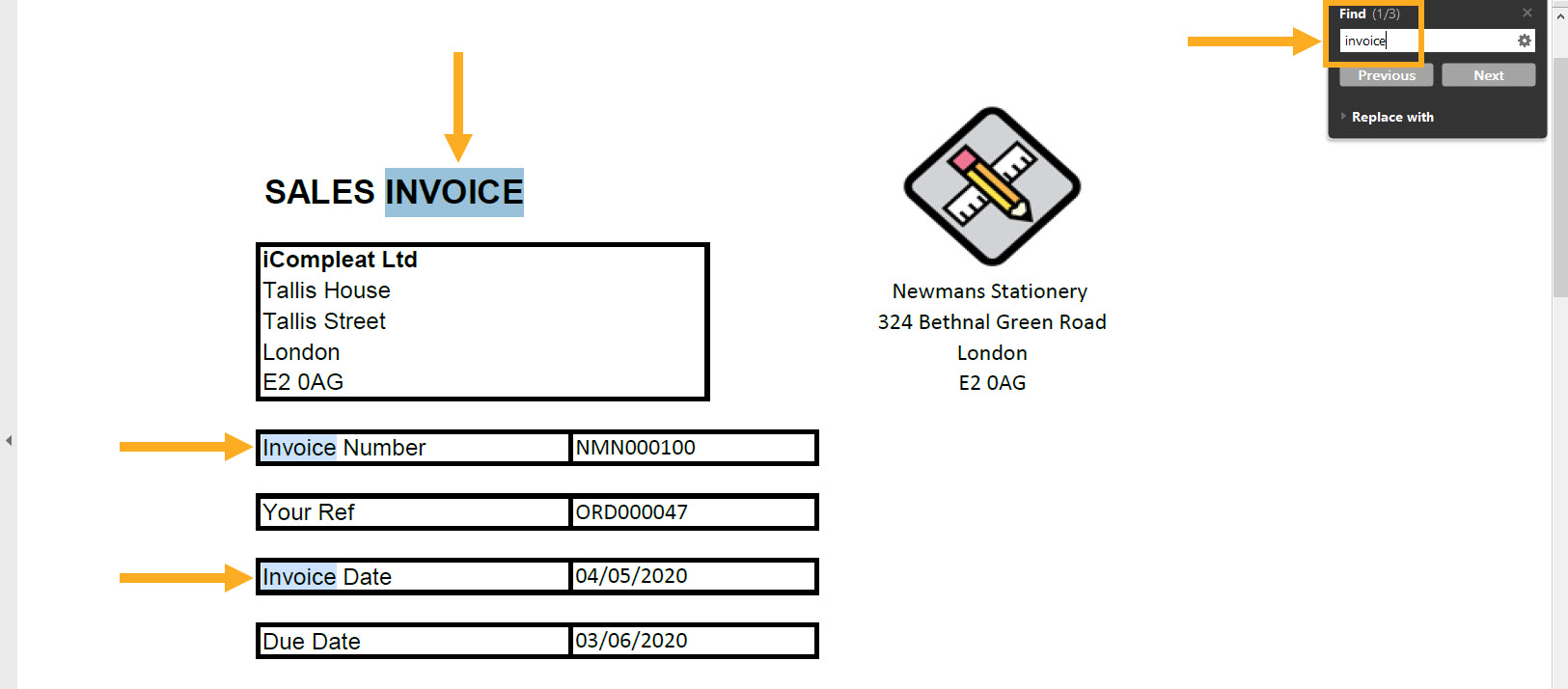 Why is it important that my invoice are in "intelligent" PDF format?
Our capture software creates rules for each new supplier that sends invoices to iCompleat, helping us to automatically extract the relevant information from every invoice they send in the future.
It does this by extracting the raw text within the base layer of an intelligent PDF invoice. If it can't read the raw text, it will be unable to extract the relevant information automatically, and a member of our team will need to step in and manually process the invoice, which takes much longer.
How should invoices be formatted?
Invoices should be clearly laid out, with obvious labelling of information such as:
Invoice date
Invoice number
Purchase order number
Gross, Net and VAT values
Like this: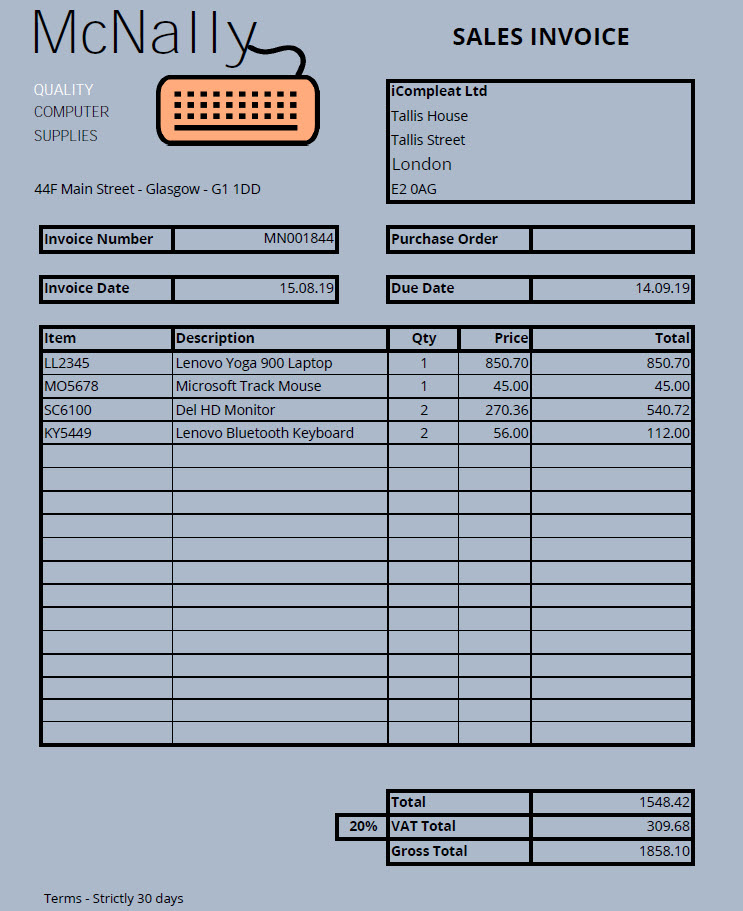 This applies to both intelligent PDFs, or clearly scanned documents that our software can identify this information from.
All the relevant fields on an invoice should be clear and logically labelled, and the data for these fields should be next to, or underneath, the label.
Invoices must be consistent. If a supplier suddenly renames a field or moves it somewhere else on the invoice template, our capture software might not be able to pick up that information the next time an invoice arrives.
Of course, invoice layout can vary depending on how many lines there are, or how much information is included in items, and our capture software can recognize this. But a Net, Vat, or Gross field being moved to an entirely different column might cause issues.
Why is important that my suppliers send invoices directly to iCompleat?
The first time a supplier ever sends an invoice to iCompleat, our capture software keeps a record of the email address the invoice was sent from. The next time that same supplier sends an invoice, our capture software instantly recognizes the email address, and assigns the correct supplier to the invoice.
Can I send invoices to iCompleat myself?
Yes, but we don't recommend it!
Our capture software creates special sets of rules for processing invoices from each of your suppliers, which includes using the supplier's email address to recognize where the invoice has come from. So, when you send an invoice from your own email address, it throws us off.
This usually means a member of our team has to step in to manually process the invoice so that it reaches iCompleat, which takes much longer.
To get the most out of our capture software we strongly recommend having your suppliers send invoices to iCompleat directly.
What might prevent an invoice reaching iCompleat quickly?
It's an invoice sent directly from you
Our capture software recognizes the supplier based on the email address used to send the invoice. Invoices sent to iCompleat directly from another email address are placed in a queue, and a member of our team has to step in to manually process them, which takes longer!
It's not an "intelligent" PDF
Our capture software attempts to convert any document it receives into an intelligent PDF, and it can only do this if the document is high quality.
Badly scanned documents or photos of invoices are unlikely to be successfully converted. Again, in those cases a member of our team has to step in to manually process the invoices.
The invoicing email address is wrong
We know it sounds a little insulting however, this does happen and we recommend your suppliers stay mindful when copy & pasting an address from a previous email. Applications like Outlook can add special characters such as "<" and ">" to the address pasting eg. <YourCompanyName@compleat-einvoicing.com>
This could stall our capture portal when processing the invoice as the AI will not expect these special characters in the email address from the supplier.
The invoice layout is bad
Our capture software looks for keywords in invoices to see if the right information is there, like invoice number, date, and Net, Vat, and Gross amounts. An example of a common issue is the invoice totals on the invoice having no header.
If our capture software can't find the information it needs using a keyword search, it won't be able to automatically process the document and send it to your iCompleat company.
Once more, bad invoice layout means that a member of our team has to step in.
What can my suppliers do to help invoices reach iCompleat quickly?
If you're able to negotiate with your supplier about how they send their invoices to you, the following advice is a good place to start.
Consider using a digital invoicing platform
Many new accounting systems now have an invoice function, which produces a clear, consistent, and intelligent invoice format that our system can easily translate.
Better still, some of these systems can email invoices directly to iCompleat, speeding up the process.
Keep their invoice format clear and consistent
See our formatting advice above.
Use a central email address for sending invoices
This means that our capture software can instantly identify which supplier an invoice is from.
Be mindful of file size
As with any email attachment, it's best practice to limit the file size to make sure it can be sent and received by both the supplier and iCompleat without issue.
When sending multiple invoices in an email, your suppliers should avoid merging them into one file. Each invoice should be a separate file, with clear formatting, its own unique invoice number.
Send high quality scans
If a supplier must send a scanned invoice, they should make sure it's high quality.
Here's our definition of a high quality scanned invoice:
No handwritten comments
Isn't scanned at an angle
Any stamp marks or identifiers don't cover up invoice fields
Key fields are clearly labelled
How long does it take an invoice to reach iCompleat?
The time taken to extract data from an invoice and send it to iCompleat can range from a matter of seconds to upwards of one working day during busy periods.
PDF documents sent directly to us by your suppliers can land in your unprocessed tray almost instantly. Scanned invoices that you send in yourself will take much longer to arrive. For this reason, we strongly recommend having your suppliers send invoices to your iCompleat company directly.
What happens when non-processable documents are sent to my e-invoicing address?
Documents like statements & quotes can't be processed through iCompleat, but that isn't a problem. If a supplier happens to send any non-invoice related documents to your e-invoicing email address, our data extraction software will automatically forward them to you.
You can specify where these emails are forwarded to by changing your notification e-mail address in the Subscription Options area of iCompleat under Billing/Contacts.
This doesn't apply to any extra documents that suppliers attach to emails containing their invoices. They'll appear with the invoice in iCompleat as supporting documents that can you view when processing right through to approval.

How do I know when an invoice is on its way?
You'll see a banner at the top of your unprocessed tray stating the number of documents we're currently working on for you.
You can click this banner to see the full details, including the supplier who sent the documents, the time they were sent, and even a preview of the documents.
Can I use an auto-forward to send transactions to my e-invoicing address?
Yes, you can use an auto-forward. In fact, this is a great way to make use of our extraction software!
Before you start using the auto-forward, please let us know the e-mail addresses you'll be forwarding 'from and to' by contacting support@icompleat.com.
A little configuration is needed at our end to ensure your transaction successfully appear in iCompleat.
For help, go to setting up email auto forwarding to iCompleat.
When does an invoice credit get taken from my balance?
Invoice credits let you receive invoices in iCompleat.
For every invoice that you receive in iCompleat, one invoice credit is deducted from your balance. An invoice credit isn't deducted until the invoice actually arrives in iCompleat, so any invoices going through our Capture software won't affect your balance until they're actually in the tray.
This also means that emails that don't contain invoices, & are therefore forwarded to you by our extraction software, don't use up invoice credits.
Invoice credits won't be deducted from your balance for supporting documents. When an invoice arrives with three supporting documents attached to it, iCompleat only deducts one invoice credit from your balance.
If you have more than one company in iCompleat, you don't need to top up invoice credits for each separate company as they share one invoice credit balance. You can top up your invoice credit balance in the Subscriptions Options area of iCompleat.

Great stuff!
Now that you're an aficionado in sending invoices to iCompleat, it's only a matter of time before the invoices start rocking up ready to be coded & sent for approval.
When your first invoice drops in, head to the next section to see how to process it.