Invoice packs are lists of fully approved, ready-to-pay invoices. You can download them to an Excel spreadsheet for your own reporting purposes, giving you a useful overview of each approved invoice's audit trail within Compleat.
Once you've created an invoice pack, you can submit it for approval by a designated invoice pack approver. When an invoice pack is fully approved, you can review it, print it, and download it to Excel.
An invoice can only be part of one invoice pack. Adding an invoice to a pack will mean that it won't be available to add to future invoice packs.
One of your company administrators will have set up the permissions for the relevant users to create and approve invoice packs.
Check out how to create an invoice pack below.
Step 1
Navigate to the Homepage.

Step 2
Select the Invoice packs option.

Step 3
The Create a new invoice pack page appears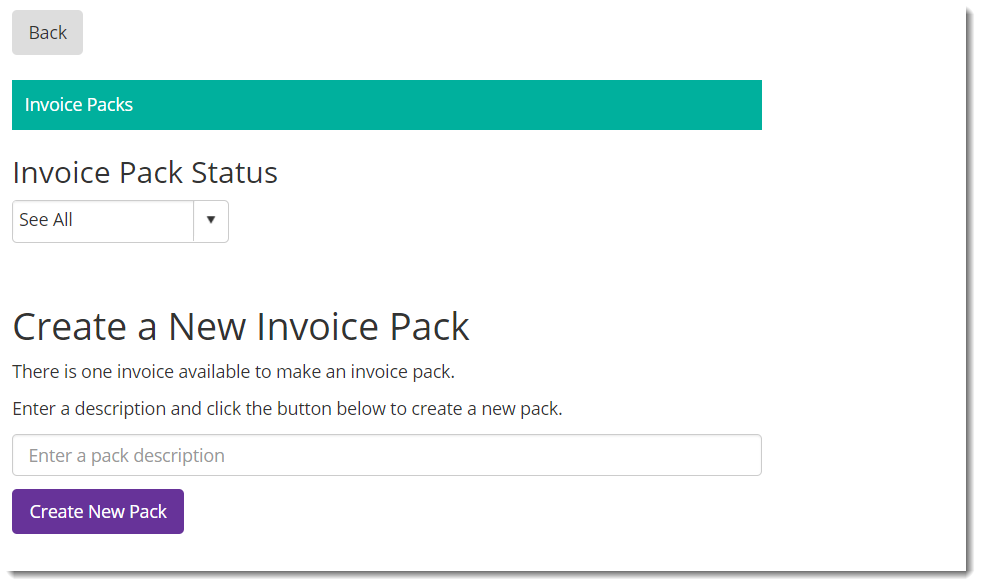 Step 4
Enter a meaningful description that provides an outline of the Invoice pack's detail and purpose.

Step 5
Click or tap the Create new pack button.

Step 6
Select if you want to choose which approved invoices are added to the pack, or if you want to add all available approved invoices

For more details select one of the following options:
Choose Invoices
Add all

1. Click or tap

2. A list of available approved invoices appear

3. To add an invoice to the pack, click or tap the invoice's checkbox.

4. Selected invoices are highlighted

5. Click or tap

6. The invoice pack is created

1. Click or tap

2. The invoice pack is created and the following message appears.
Step 7
The new invoice pack is created and added to your current list.
The Create new pack button does not appear if there are no newly approved invoices available.