Reports in iCompleat offer deeper insights into your company's spending & invoicing activity, presenting results in simple charts & numbers that you can drill down into to see the individual transactions behind the data.
There's also the option to instantly export the report results to PDF or Excel, letting you analyse & store your data outside of iCompleat if you need to.
There are 10 reports in iCompleat. Your access to each report is controlled by an iCompleat Administrator in your user permissions, so you may see them all.
To see your reports, click Reports on the homepage.
If you don't have access to any reports, you won't see the Reports tile on your homepage.

What reports are available in iCompleat?
Here's a list of the various iCompleat reports, as well as a brief explanation of what's contained in each report, & what they're useful for.
Invoices per day
See how many invoices in your company with any status were processed today, in the last seven days, & an all-time total.
Useful for:
General system & supplier management.
Seeing how many invoices are received across all suppliers to a specific company.
Invoices pending approval
See all invoices that are currently awaiting approval, or are yet to be submitted for approval.
Useful for:
A general overview of team productivity & efficiency.
Seeing the number of invoices both not assigned to a workflow yet, & mid-workflow awaiting further approval.
Seeing the current approver mid-workflow, & identifying if there's an approval user or approval group who may be slowing down the approval process.
Tracking cashflow by viewing invoices not yet within the finance system, but which should be accrued for.
Invoices approved/denied
See all fully approved or denied invoices.
Useful for:
Tracking how many invoices have been approved/denied over a specific period.
Making a direct comparison between invoices approver/denied over different time periods.
Getting an overview of the percentage of approved transactions vs. denied.
Supplier activity
See the number of invoices in your iCompleat company per supplier.
Useful for:
Getting a clear view of supplier activity to better manage your suppliers.
Presenting to suppliers as part of a review to see if they could consolidate the number of invoices they're sending.
Supplier spend
See the value of invoices in your iCompleat company per supplier.
Useful for:
Managing supplier relationships.
Seeing how much is being spent with each supplier over specific time periods.
Presenting to suppliers to negotiate better prices, or even volume-based discounts.
Accruals
See all transactions with an incurred cost that haven't yet been posted to your finance system, but that finance would want to accrue for. This includes all unmatched, approved orders with an outstanding balance & a delivery date in the past, any partially matched orders, & all invoices currently unprocessed or awaiting approval.
Useful for:
Finance users who are looking to iCompleat for financial information that hasn't yet been approved & pushed through their accounting software.
Accurately viewing committed spend from within iCompleat based on order & invoice data.
Value/Volume
See the monthly, yearly, or total value of invoices processed in your iCompleat company.
Useful for:
A more generalized view of total invoice spend across all suppliers.
Getting a clear picture of the volume of invoices your company receives.
Cash requirements
Project your cashflow requirements for the coming months. See all invoices needing payment, VAT repayments due based on your financial year start, & payroll obligations.
Useful for:
Forecasting committed invoice spend across a specific time period, including invoices that are unprocessed, awaiting approval, & fully approved.
Predicting the maximum cash required in a specific week or month based on the invoice payment due date.
Committed spend
See all fully approved orders with a delivery date in the future. Invoices from this report will appear in the accruals report once their delivery date has passed.
Useful for:
Finance departments to keep tabs on approved & committed orders yet to be delivered.
All open orders
See all fully approved orders with an outstanding balance & a delivery date in the past or future.
Useful for:
Viewing committed spend in relation to purchase orders raised that haven't been matched to an invoice yet.
Finance departments to calculate what spend has been committed across the business at the earliest opportunity, & make better informed decisions based on this information.
Running & viewing a report
In each iCompleat report you can filter the results by specific criteria so that you can quickly drill down to the data you need. Some reports have a drop-down that lets you select a time period or enter one manually, & some let you also filter results by supplier or company.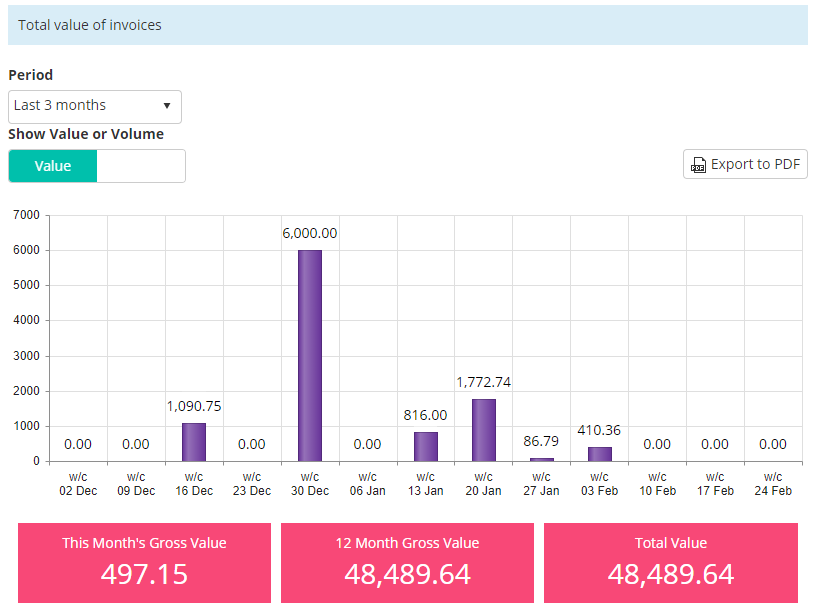 iCompleat reports can take the form of bar charts, line graphs, or lists of data. You can click any part of a report to view the transactions making up the data. In some reports, you'll see a series of pink buttons underneath that let you drill down into specific transactions within the report.
After clicking part of a report or selecting one of the pink buttons, a list of relevant transactions appears on the right of the screen. You can view the individual lines within each transaction & drill down further to see the original document image & any supporting documents.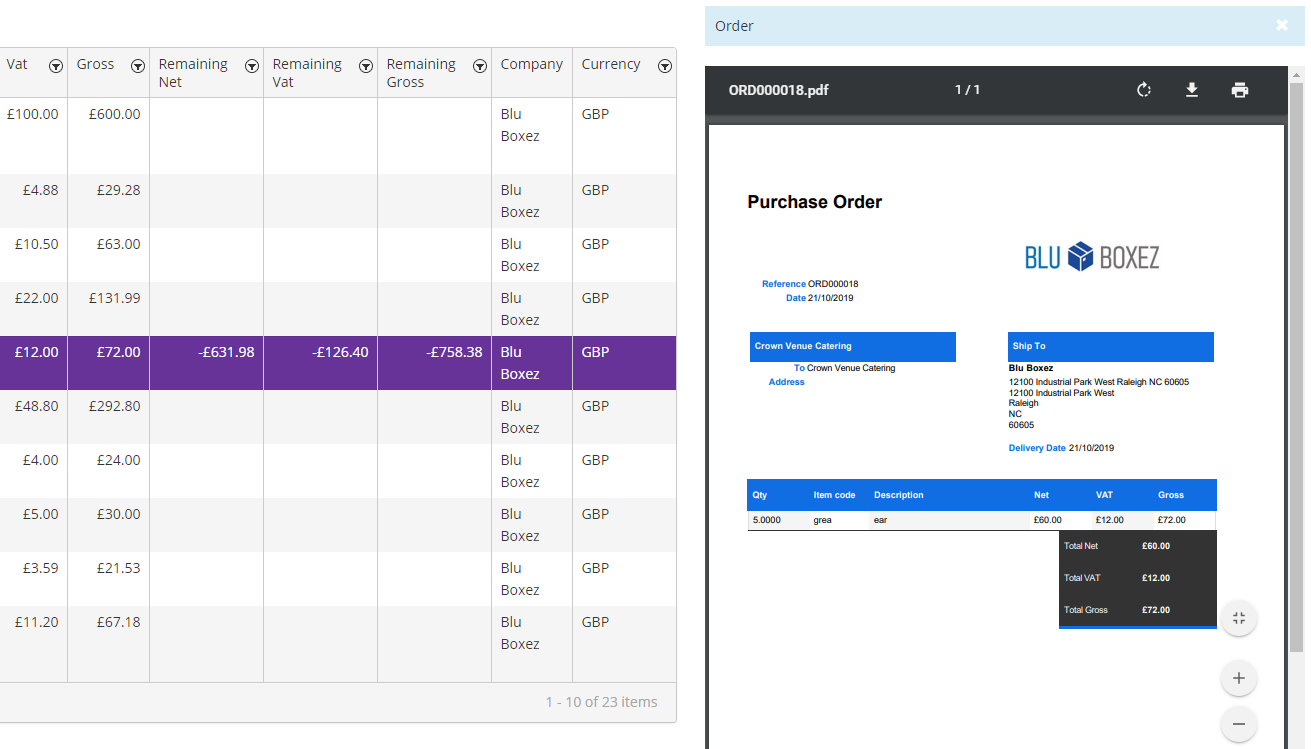 Exporting a report
All of your reporting data can be quickly exported to Excel or PDF for your own records & analysis. You'll see an Export to PDF button in all the reporting areas, which lets you export the graph, bar chart, or results list to PDF. When a report presents you with a list of orders or invoices, you have the option to export the list to PDF or Excel.
When viewing a document image within a report you also have the options to rotate, download, or print the image.