Mapping (linking) a supplier to an invoice means that every future invoice received from this supplier will automatically be linked to them. This will also enable the system to apply specific defaults to each supplier invoice.
How:
Click the invoice to open it from the 'Unprocessed' tray.
The summary page appears.
There are two ways you can begin, click either:

or

Either option takes you to the 'Invoice' page.
A blue box appears stating 'Please select the correct supplier to map this invoice to.'

Choose the correct supplier from the drop-down list of available options.

If you have a 'one-off' supplier set up in your accounting system, you have the option here to select your one-off supplier, or to enter the supplier manually. Manual entries will default to the one-off supplier.
There are no mapping settings for the one-off supplier. This is useful if you know that you are unlikely to use this supplier again.
You must create your supplier in your accounting system before you can map the invoice to them.
Select where to forward this invoice to from the workflow options at the bottom of the page.

The 'Automatic Supplier Link-Up' dialogue box appears.
The system is asking 'Would you like all future invoices received from example@exampleltd.com to be automatically linked to "Example Company Ltd"?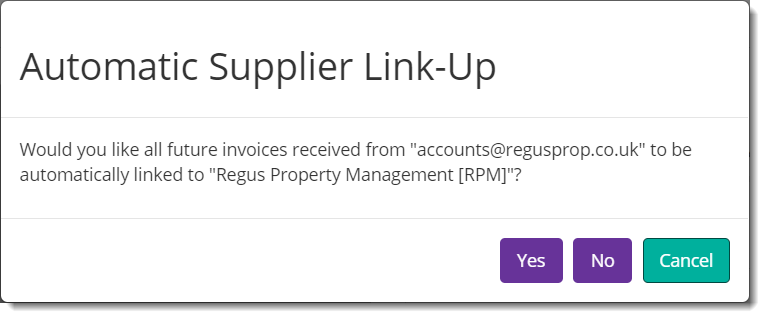 Click Yes.
Future invoices received from the example supplier are now automatically linked to this supplier in the system.