Mapping supplier defaults for an invoice means that for every invoice received from this supplier, the system will automatically input this information in the future.
This is beneficial if a supplier will always send invoices related to the same account codes etc. You will only need to enter the information on this one-off occasion.
Mapping options are designed to aid the automation of invoices and are entirely optional. You can choose to map part of the invoice, all of it, or leave out mapping completely.
How:
Step 1
In the 'Unprocessed' tray, click the invoice to open it.

Step 2
The invoice summary page appears.
In the bottom-right corner, click 'Edit'.

Step 3
If the supplier is not selected, choose the correct supplier from the drop-down list of available options.

Step 4
Click 'Map supplier defaults'.

Step 5
The 'Map supplier defaults' box opens.
From the drop-down lists of available options, select the relevant account options.
The options you see here will vary depending on the layout configured for your company's requirements.

Step 6
When you are happy with your choices, click 'Save'.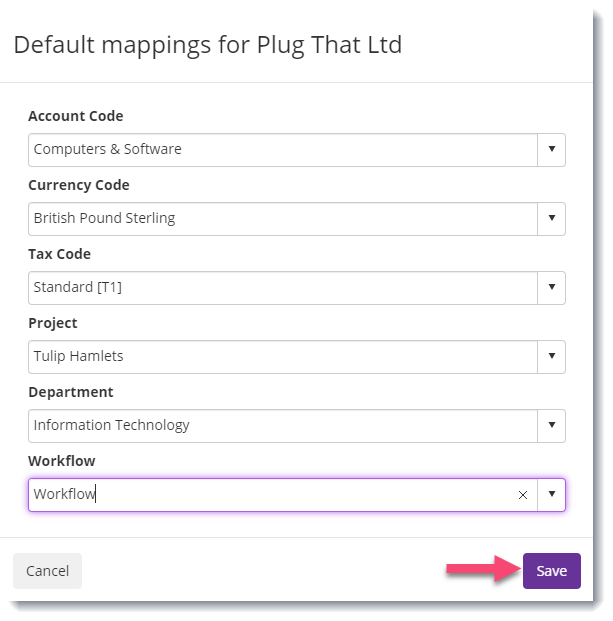 Step 7
A message appears in a blue box stating 'defaults saved successfully. The system will now update all unprocessed transactions to these values for Example Company Ltd'.

A message appears in a green box stating 'Update completed successfully. (x) transaction(s) updated.

All invoices in the Unprocessed tray will now be updated with these defaults.
Step 8
Click 'OK' to close the box and apply changes.